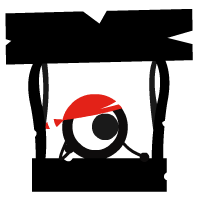 Shoku Store is a small wooden stand maintained by Shoku Kachipon in Patapolis. He usually sells materials, weapons and Vanity Equipment, but rarely he might have something unusual to sell.
Appearance
Shoku Store is a wooden stand located in the left part of Patapolis. Shoku appears as a Norml Patapon with a red bandanna on his head.
Weekly Discounts
Every week there is a chance for every item in the shop to be 25%, 50% or 75% cheaper. Discounts are changed on every Monday.
Items
Helmets
| Item | Cost | Requirements |
| --- | --- | --- |
| Shubaba Gale Helm | 250 Golden Star Shards | None |
| Bald Cap | 250 Golden Star Shards | None |
| Pirate Hat | 250 Golden Star Shards | None |
| Clown Helm | 250 Golden Star Shards | None |
| Masamune Helm | 250 Golden Star Shards | None |
| Otherworld Jupiter Head | 250 Golden Star Shards | None |
| Malevolent Uramus Helm | 250 Golden Star Shards | None |
| Marina Sea Helm | 250 Golden Star Shards | None |
| Straw Boing Helm | 250 Golden Star Shards | None |
| Firegem Crown | 1000 Golden Star Shards | None |
Spears
| Item | Cost | Requirements |
| --- | --- | --- |
| Wooden Spear | 100 Golden Star Shards | None |
| Iron Spear | 100 Golden Star Shards | None |
| Steel Spear | 100 Golden Star Shards | None |
| Scorching Spear | 100 Golden Star Shards | None |
| Ice Spear | 100 Golden Star Shards | None |
| Thunder Spear | 100 Golden Star Shards | None |
| Kacheek Spear | 300 Golden Star Shards | None |
| Firegem Spear | 1000 Golden Star Shards | None |
Specials
| Item | Cost | Requirements |
| --- | --- | --- |
| Chaos | 5000 Golden Star Shards | None |
| No Rarepon | 3500 Golden Star Shards | None |